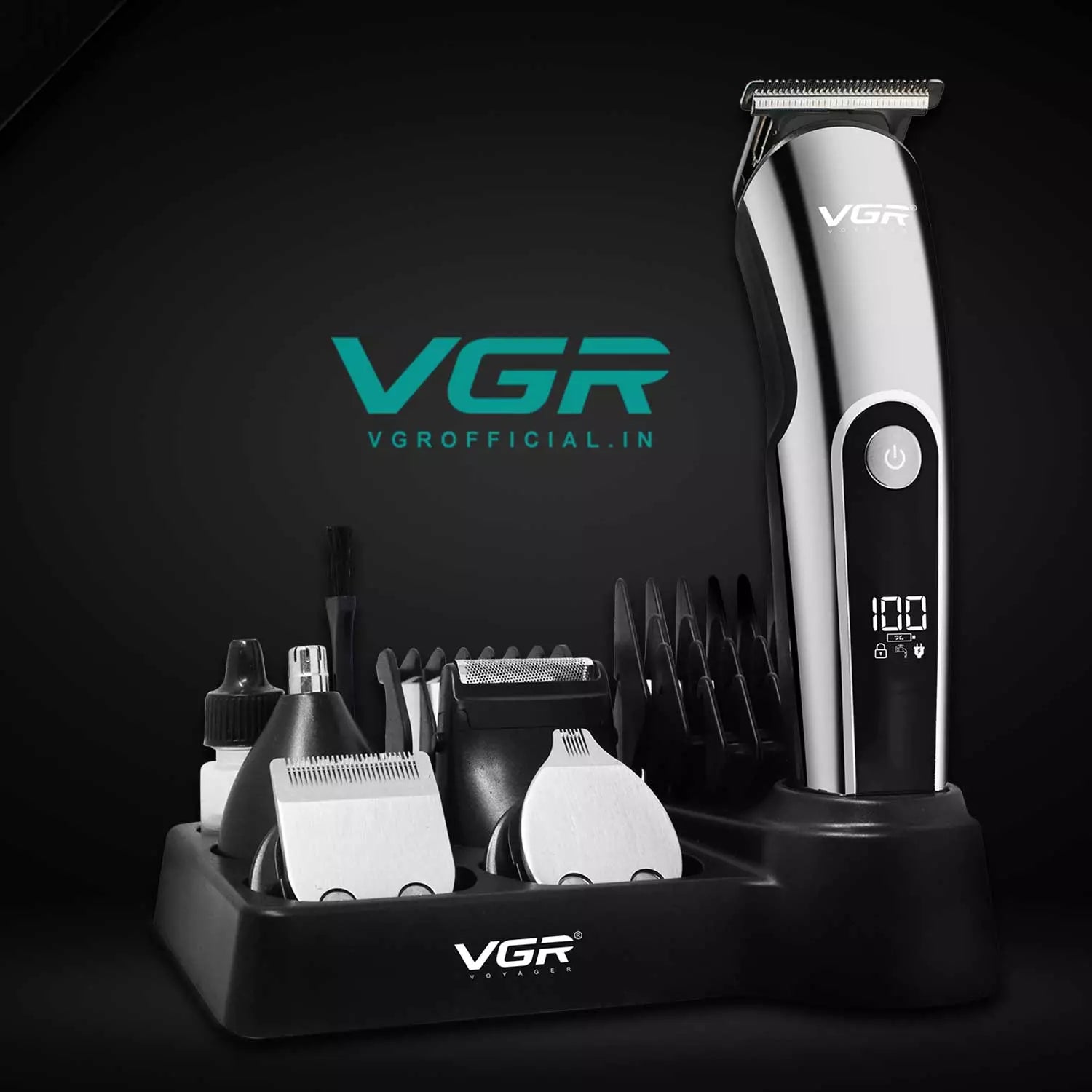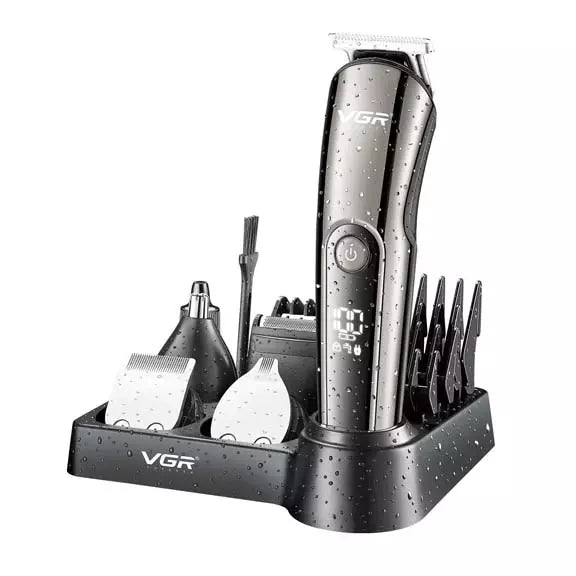 VGR V-107 Grooming Kit For Men
---
🔺600mAh Powerful Rechargeable Lithium Battery which provides 150 minutes runtime.
🔺Trimmer is FULLY WASHABLE, so simply rinse them under the faucet for easy cleaning.
🔺The smart DIGITAL DISPLAY informs you about the remaining battery and oil filling.
🔺Use For Whole Body Grooming Because Of 5 In 1 Detachable Precision Heads.
🔺Hassle free charge anytime anywhere with help of USB charging cable.

Get an Extra 5% Discount On All Prepaid Orders
---
---
VGR V-107 Grooming Kit For Men
VGR V-107 multi-grooming kit for men is specifically made to meet all of a man's grooming requirements. There are five different attachment heads so that are included in the kit. And with the 6 cutting guide combs on this flexible trimmer for styling your hair, beard, moustache, and body. You may create your own distinctive appearance. A full-size trimmer head to define hair around the neckline. A precision trimmer head to define both straight and curved lines and edges. The trimmer after use. A cleaning brush is included with the VGR V-107 multi-grooming kit to be used to remove any hairs that may become stuck in the cutting blade.
VGR V-107 Come's with five attachments which are as follows: A full-size trimmer head for defining hair around the neckline. And a precision trimmer head for defining both straight and curved lines and edges. The nose is carefully trimmed with nose trimmer heads. And customized beards are styled using design trimmer heads. this VGR V-107 hair grooming kit built in 600mAh rechargeable lithium battery. With 150 minutes continuous runtime, an incredibly quick charging time of just 2 hours. This grooming kit is cord and cordless use. Skin-friendly, self-sharpening blades, and hassle-free maintenance.
Maintenance and Care Guidelines:
For the longer  life of the appliance there are few points to keep in mind. After every use of VGR V-107 clean and lubricant if required. Below are the few do's and don'ts for a proper care of this grooming kit:
Do's
Clean the unit under the running water.

Keep the grooming kit free from dirt.

Clean before and after use for the best experience.

Reach the support team in case the device doesn't function  properly.

Dispose of the appliance in compliance with the European Directive 

2002/96/EC.
Don'ts
Dip the unit into the water.

Use solvents and detergents for cleaning.  

Try to repair the unit by yourself, your warranty will lapse.

Allow your children to use it without adult supervision, it might hurt them.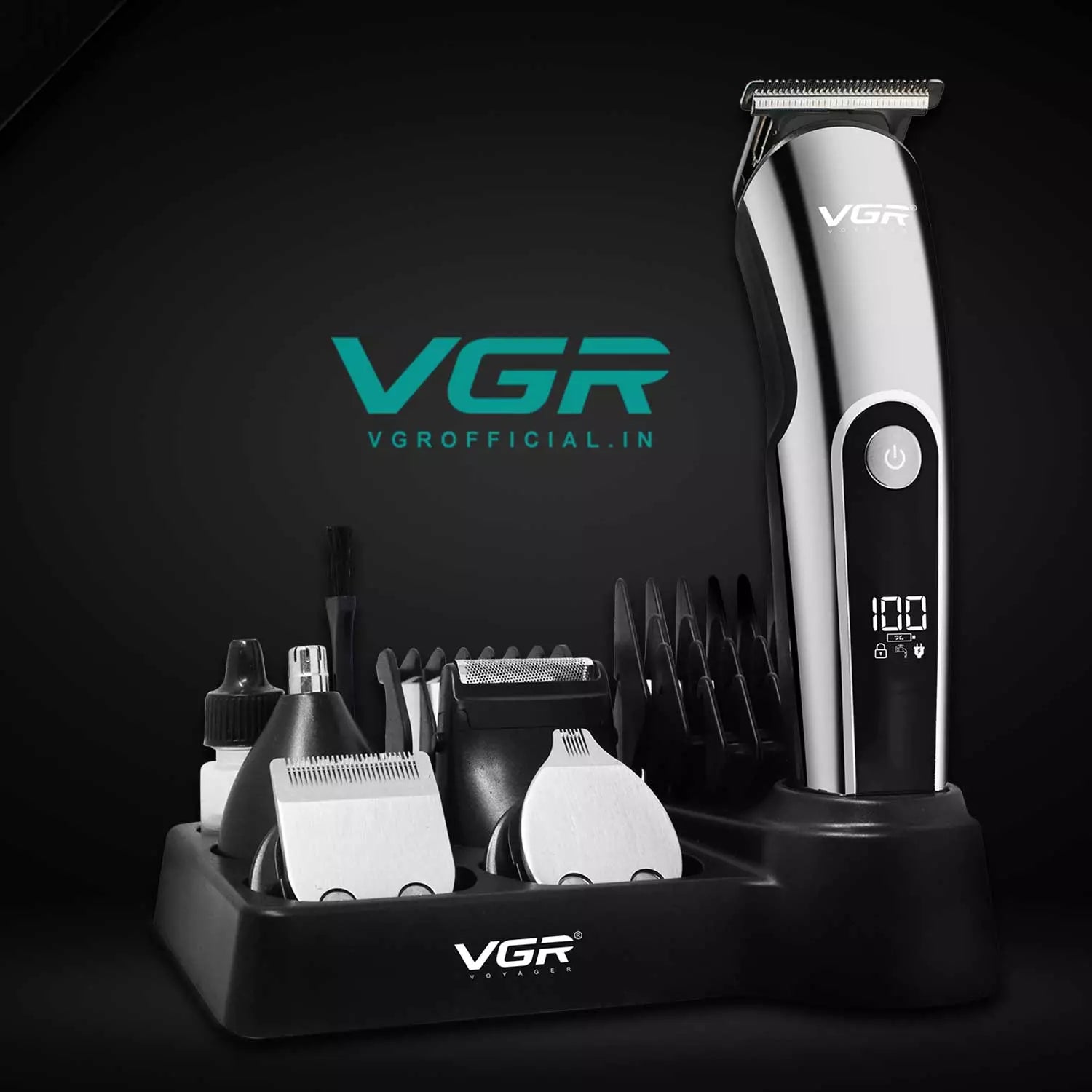 LED Display
1. Power Percentage Indicator
2. Battery Indicator
3. Low Battery Status Indicator
4. Lubricant Oil Indicator
Guide Combs
4x Guide Combs (3mm, 6mm, 9mm, to 12mm)
Charging Time
1. Lubricant Oil Bottle 2. Cleaning Brush 3. Travel Pouch
You may also like
Save 19%
Sold out
Sold out
Sold out
Sold out
This product has no reviews yet.